Software
Features
Full Quran with Translation
Read the Noble Quran (Koran/Coran) from the palm of your hands on the new iPhone and iPod Touch. The software provides Arabic verses alongside numerous selectable translations:
English Translation by M. Mohsin Khan
Other English Translations in Pro: Yusuf Ali, Pickthal, Shakir
English Translations: M. Mohsin Khan, Yusuf Ali (in Pro), Pickthal (in Pro), Shakir (in Pro)
Transliteration (in Pro)
French Translation (in Pro)
German Translation (in Pro)
Indonesian Translation (in Pro)
Melayu Translation (in Pro)
Spanish Translation (in Pro)
Turkish Translation (in Pro)
Innovative Index Screen
A fully interactive index screen with multiple columns giving you all the information you need. Surah Titles, Hezb Portion Shortcuts and Juz Shortcuts can be scrolled separately.
Themes Support
Two themes currently available to select from - change the way iQuran looks and feels.
Recitation
Listen to your favorite reciter with verse by verse recitation of the surah you wish to hear. With the unique follow-up feature, iQuran scrolls the screen automatically whilst you read and hear the Quran being reciter to you. A particular verse can be selected for playback by stopping current playback, tapping the new ayah and tapping "Play" again. Download and manage recitation files at will for different surahs (chapters) by different reciters. Currently supported reciters (along with the maximum space required if all surahs for that particular reciter are downloaded):
Sheikh Husary (~417 MB)
Sheikh Mishary Al-Afasy (~587 MB) (in Pro)
Saood Shuraim (~412 MB) (in Pro)
Abu Bakr Ash-Shaatree (~522 MB) (in Pro)
Abdul Basit (~574 MB) (in Pro)
Ghamdi (~339 MB) (in Pro)
Others coming soon for iQuran Pro! Will automatically appear in iQuran under the available reciters list
Repeat Bubbles
In recitation mode you have the ability to:
Move to the next Surah when recitation ends for a surah
Repeat the same Surah
Repeat each Ayah from 1 to 5 times before moving to the next (very helpful for those who wish to memorize a surah)
Bookmarks
Don't want to lose the last verse you were reading? Or would like to place a marker for later reading? Use the Bookmarks feature to manage those favourite ayahs (verses). To add/delete a bookmark, simply swipe your finger on any ayah from left to right.
Audio Bookmark
The bookmark view has a special bookmark at the top of the screen called an Audio Bookmark. This will remind you of the last ayah that was played back in a particular surah. This way you never forget which Surah/Ayah was playing when you stopped or closed iQuran.
Languages
iQuran will support various languages for its interface in the near future
English
Arabic (supported partially at the moment)
French (coming soon)
Easy Scrolling
With the all-in-one display, read the Quran while you scroll from ayah to ayah with a single drag. If a translation is selected, this will be displayed right after the corresponding Arabic text.

Verse Jumping
Although scrolling is good, it can become tiresome where the chapter is long or when you want to go to a particular ayah directly. Use the side bar and swipe your finger from top to bottom, and vice versa, to go to a verse quickly. This technique has been named Fast Scrolling

Quick Ayah Scrolling
In non-recital mode, tapping once on the ayah column (the fast scroll column) will scroll and make the next ayah visible.

Selected Ayah Focus
Tilting the Phone forward in Surah view will scroll the view back to the currently selected ayah. At times you select an ayah and then scroll down/up but want to go back to the ayah you had previously selected. Simply tilting the phone forward will scroll back to selected ayah.

Surah storage management
Audio data for Surahs can become very big and with little space left on your device, at times you may wish to keep the actual Quranic Text but not the audio for a particular surah or by a particular reciter. iQuran allows you to delete individual reciters, or surah audio by individual reciters, keeping in tact the actual text. One may even wish to remove all translations and only keep the arabic text.

iPhones and iPod Touch
Available for both iPhones and iPod Touch. This is Alhamdulillah the World's Most Advanced Quran software ever made and designed.

iQuran Pro
iQuran Pro offers the extra translations, recitations and unlimited bookmarks. The basic version has 3 bookmarks supported.



Copyright © 2010 guidedways.com. All rights reserved. The basic version of this program is free software; you can redistribute it to whom you like but may NOT modify it in any way.This program is developed and distributed to please Allah (swt) and to help our brothers and sisters in Islam. However, this distribution is WITHOUT ANY WARRANTY; without even the implied warranty of MERCHANTABILITY or FITNESS FOR A PARTICULAR PURPOSE.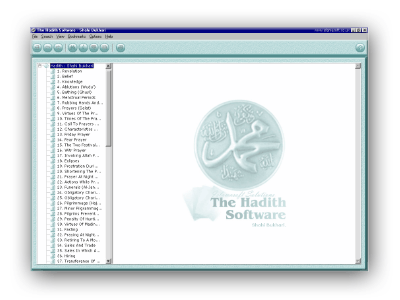 | | | |
| --- | --- | --- |
| The Hadith Software V1.0 | 2.1 MB | |
|  - Plugin Sahih Bukhari | 1.6 MB | |
|  - Plugin Sahih Muslim | 1.4 MB | |
|  - Plugin Maliks Muwatta | 0.8 MB | |
|  - Plugin Fiqh-us-Sunnah | 0.8 MB | |
|  - Plugin Shamaa-il Tirmidhi | 0.5 MB | |
|  - Plugin Abu Dawud | 0.7 MB | |
|  - Plugin Bonus/Extras | 0.3 MB | |